Daniel Pfalzgraf is a multi-media artist and curator who has been exhibiting art professionally for twenty years.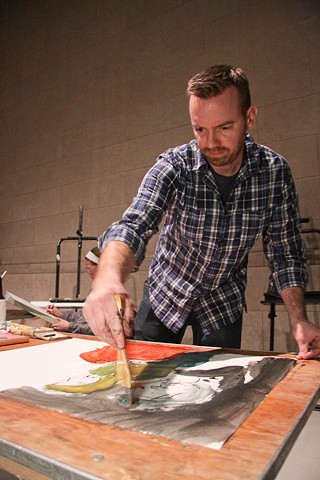 Pfalzgraf is currently the Curator for the Carnegie Center for Art & History in New Albany, Indiana. Pfalzgraf was also previously Director of The Green Building Gallery, Director of Media Services at B. Deemer Gallery, and an assistant preparator at the Speed Art Museum (all in Louisville, Kentucky) and was the Media Coordinator at Bill Lowe Gallery in Atlanta, Georgia. He has also worked as an independent curator creating exhibitions under the name of LoCAL.gallery.
Pfalzgraf's current series of work, Kentucky Game are blind contour drawings on paper painted in with oil paint and other mixed media and explore the themes of attraction, hunting, and collecting. Pfalzgraf has blockchain-based digital artwork based on this series available to buy and sell on the Pixura platform by CLICKING HERE.
Daniel Pfalzgraf also maintains a blockchain-based digital art collection on the SuperRare platform. Artwork included are pieces created by other artists and are available for sale. You can view that collection by CLICKING HERE.
Pfalzgraf received a BFA from Murray State University (1999) in sculpture and drawing, and an MBA from Indiana University Southeast (2018). He has exhibited in numerous group and solo exhibitions in Louisville and Atlanta.


Follow: FACEBOOK | TWITTER | INSTAGRAM | LINKEDIN
Photo credit: Frankie Steele